ASNT SNT-TC-1A (2020) – Qualification of Nondestructive Testing Personnel
Sarà pubblicata a breve la nuova edizione 2020 della norma ASNT SNT-TC-1A "Personnel Qualification and Certification in Nondestructive Testing".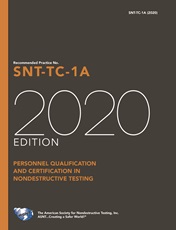 La Recommended Practice No. SNT-TC-1A fornisce linee guida ai datori di lavoro per stabilire programmi di certificazione interni per la qualificazione e la certificazione del personale NDT. Fornisce consigli educativi, di esperienza e di formazione per ciascun metodo NDT. Dal 1966, i datori di lavoro hanno utilizzato questo documento apprezzato dal settore come quadro generale per i loro programmi di certificazione NDT.
Se siete interessati, non esitate a richiedere un'offerta scrivendo a: prodotti@infodoc.it