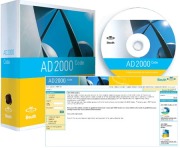 Il codice AD 2000 in materia di recipienti a pressione è redatto dalla "German Pressure Vessel Association" e distribuito da Beuth Verlag. I membri di questa associazione sono:
– German Association of Steam Boiler, Pressure Vessel and Piping Manufacturers e.V. (FDBR)
– German Statutory Occupational Accident Insurance (DGUV)
– Association of the German Chemical Industry (VCI)
– German Engineering Federation e.V. (VDMA)
– German Steel Institute (VDEh) – VGB Power Tech e. V.
– German Association of Technical Inspection Services e. V. (VdTÜV)
I regolamenti AD 2000 che compongono il codice sono disponibili nei seguenti formati:
singoli documenti in forma stampata o come download
raccolta completa nei formati Carta, CD-ROM o Online
La raccolta completa AD2000 è disponibile in tre formati: Carta, CD-ROM o Online.
Il formato online è un abbonamento annuale e può essere sottoscritto come Single-User License (solo una persona dell'azienda è abilitata ad utilizzare il servizio online) o come Company License (in questo caso viene viene data una password generica che può essere utilizzata da tutte le persone che in azienda hanno necessità di accedere ai regolamenti). Nell'arco dell'anno di abbonamento se escono nuovi aggiornamenti questi saranno subito disponibili per lo scarico online. E' necessario indicare il nome e l'email della persona che dovrà accedere online. L'abbonamento online non necessita di alcuna licenza da sottoscrivere e si rinnova automaticamente per un anno, salvo disdetta per iscritto da dare 3 mesi prima della scadenza.
Il formato CD-ROM consiste nell'acquisto della raccolta completa su CD (Order code no. 11778). Potete acquistare la licenza Standalone o quella Network; entrambe includono l'abbonamento per un anno agli aggiornamenti che vi saranno inviati con annessa fattura. Il costo di ogni singolo aggiornamento potrà variare in base alle sue dimensioni.
Il formato cartaceo consiste nell'acquisto della raccolta completa su carta (Order code no. 54007). Anche con la versione su carta automaticamente accettate di ricevere il pacchetto base più per un anno l'abbonamento agli aggiornamenti. Tutti i successivi aggiornamenti vi saranno quindi automaticamente inviati con fattura dove sarà indicato il costo che dipenderà di volta in volta dalla dimensione dell'aggiornamento stesso.
Per maggiori informazioni o per richiedere offerta con le ns. condizioni contattateci allo (0535) 26108 oppure inviando una e-mail a: prodotti@infodoc.it.