SMART permette al cliente di gestire tutte le attività correlate al mantenimento ed alla supportabilità del proprio prodotto, tenendo traccia di ogni singolo caso risolto i obsolescenza ed essendo progettato ad architettura aperta è in grado di integrarsi con le più diverse fonti di dati interne del cliente ed esterne. Esso rende inoltre possibile la proattività nella gestione dell'obsolescenza a partire dal trattamento delle distinte parti, gestione e documentazione dei diversi casi e relative soluzioni, nonchè valutazione e misurazione dei costi evitabili (cost avoidance) e quindi del ROI in base alle diverse possibili soluzioni identificate.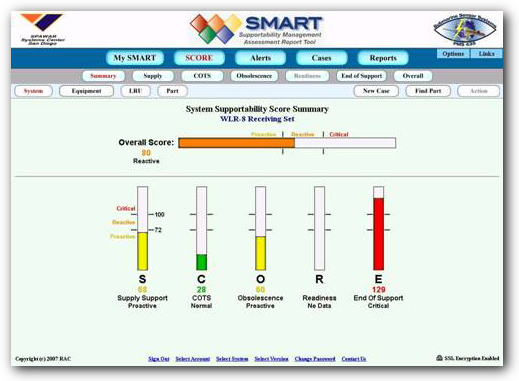 SMART implementa una metodologia di analisi basata su pesi/punteggio che vengono attribuiti in specifiche aree della sostenibilità:
Supply Support/Impact (Assets: On-Hand, Sponsor Owned, Non-RFI, ecc.)
COTS Availability (Board End-of-Life data with Replacements)
Obsolescence Impact (Parts Procurability with Lifecycle Predictions)
Readiness Drivers (Repair, Failure Rates, MTBF, MTTR, FMECA, RBS Modeling, Internal Analysis)
End of Support Dates (Combination of key Supply, Obsolescene & Readiness data to Project when Equipment will reach End of Support)
valutandone l'impatto a livello dell'intero sistema e sotto diversi punti di vista. Tutti questi elementi concorreranno nel determinare quando la piattaforma non sarà più supportabile.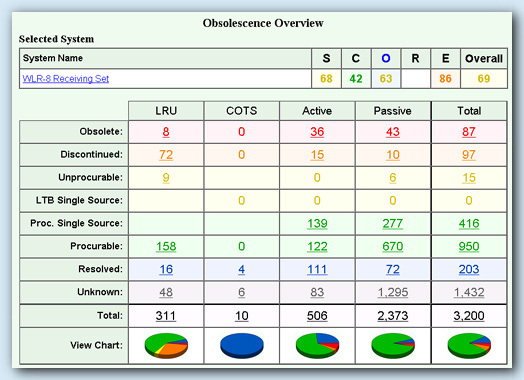 Cost Avoidance (ROI)
Per maggiori informazioni contattare il Sig. Riccardo Giovanetti al Tel. 0535 26108 oppure inviate una richiesta via email.