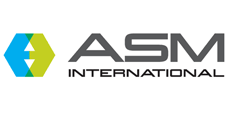 ASM International serve i professionisti dei materiali, il personale non tecnico, e dirigenti di tutto il mondo fornendo informazioni sui materiali di alta qualità, istruzione e formazione, opportunità di networking, e risorse per lo sviluppo professionale in formati convenienti e di facile utilizzo. ASM è dove gli utenti, i produttori di materiali, e i fabbricanti convergono per fare affari.
ASM MATERIALS SOLUTIONS DATABASES
Di seguito elenco di tutti gli otto ASM Online Database disponibili:
ASM Alloy Center Database™ Get instant access to worldwide equivalencies for alloys, mechanical, physical and chemical property data, and corrosion characteristics in various environments. Access alloy data sheets, stress-strain curves, creep curves, time-temperature curves and other engineering graphs for thousands of significant alloy designations.
ASM International pubblica anche una serie di importanti riviste qui di seguito elencate:
Advanced Materials & Processes (AM&P) AM&P è gratuitamente consultabile online. Free issue July 2019
Electronic Device Failure Analysis (EDFA) EDFA è gratuitamente consultabile online. Free issue August 2019
International Thermal Spray & Surface Engineering (iTSSe)
HTPro Print