ASTM International é la più importante organizzazione a livello internazionale che si occupa di metodi di prove sui materiali e produce una vasta raccolta di pubblicazioni, libri, norme tecniche/standards e banche dati.
Infodoc, grazie ad un accordo di distribuzione per l'Italia con ASTM International, è autorizzata a fornire tutti i relativi prodotti, pubblicazioni e servizi nelle diverse modalità sotto illustrate.
SINGOLE NORME – SEARCH STANDARDS
disponibili nel formato cartaceo o elettronico (PDF) nelle seguenti versioni:
In vigore (Active)
Redlined (evidenza modifiche rispetto a versione precedente)
Storica (Historical) / Ritirata (Withdrawn)
ASTM Passport to Steel
Datatabase della ASTM sugli Acciai con oltre 83.000 record su oltre 20.000 leghe disponibili online.
Annual Book of ASTM Standards
Gli oltre 80+ volumi Annual Book of ASTM Standards che contengono oltre 12.800 norme sono disponibili nei formati su carta o Online tramite ASTM Compass.
ASTM Digital Library via ASTM COMPASS
Tutti i contenuti di ASTM sono accessibili tramite la piattaforma ASTM COMPASS che oltre a disporre di un sofisticato motore di ricerca in grado di abbattere i tempi delle ricerche, mette a disposizione strumenti che aiutano l'utente a lavorare in modo più produttivo. Aggiungere note e immagini, grazie alla versione PLUS poter subito vedere con diversi colori cosa sia cambiato rispetto alla precedente versione, condividere note e lavori sulle norme con gruppi di lavoro.
La ASTM Digital Library è una vasta raccolta online che offre accesso a tutti i libri, alle riviste ed al resto della vasta gamma di pubblicazioni tecniche di ASTM che includono oltre 60,000 papers ed informazioni da migliaia di esperti tecnici che collaborano con ASTM. Eessendo in continua espansione, riflette le ultime novità tecnologiche di oltre un centinaio di industrie.
Link


    Ultime notizie da ASTM e Cataloghi
          ASTM Standardization News (online)

ASTM Digital Library Brochure
Consultate direttamente i cataloghi ASTM: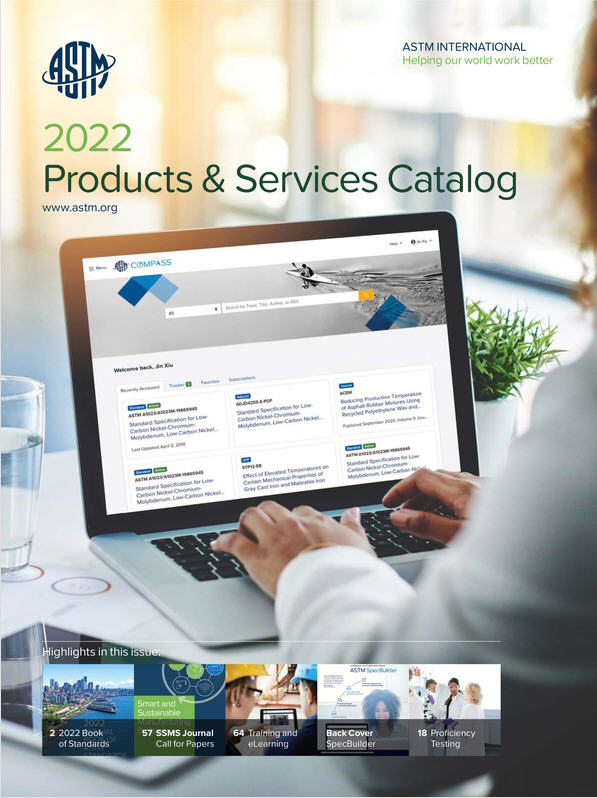 Una volta individuato il prodotto di vostro interesse, richiedeteci offerta non impegnativa in Euro contattandoci telefonicamente allo (0535) 26108 o via email a: abbonamenti@infodoc.it